Registry items now purchasable online!
June Round Up 2019
06/01/2019 at 20:59 pm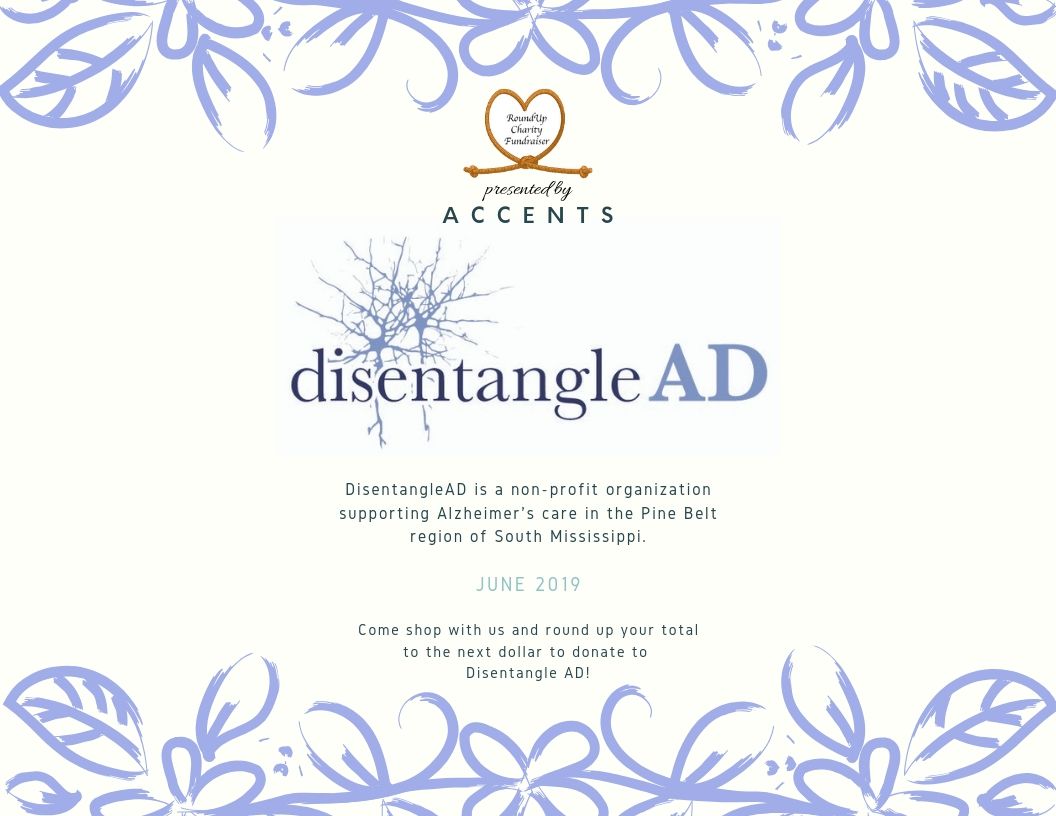 Each month, you all help us choose a local non-profit/charity. We then offer our customers the opportunity to round up their totals at the register to the next dollar to donate to that month's nominee. Those donations are then added up at the end of the month, and then MATCHED by us to make one generous donation to be given directly to that specific organization. This month's nominee is DisentangleAD! DisentangleAD is a non-profit organization supporting Alzheimer's care in the Pine Belt region of South Mississippi.
"Alzheimer's disease (AD) can be devastating for both individuals and families. As AD destroys personal memories, the sense of self slowly disintegrates. Friends and family (caregivers) often suffer from significant distress, depression, and exacerbation of their own health problems due to the overwhelming strain of caring for a loved one with AD. While medical science searches for disease-modifying therapies, improved diagnostic biomarkers, and hopefully an ultimate cure, we believe that more can be done to help relieve a small portion of this burden.

​

To [disənˈtaNGɡ(ə)l] is to extricate something or someone from a difficult situation. Our vision for disentangleAD is to become an organization that helps ease the burden of Alzheimer's disease by providing Pine Belt residents with mini-grants designated for small, well-defined, time-limited projects or services associated with caring for an individual with AD (or other dementia syndromes)."
Shop with us this month and round your total to the next dollar to donate to DisentangleAD!
For more information, see the link below.
With love,

Your Accents family